Date and Time
Oral and Poster presentation for experts: 10:00-18:15 on Monday, 13 February , 2023
Symposium for the General Public: 13:00-17:00 on Tuesday, 14 February , 2023
Theme
Environmental Radioactivity: New Frontiers
Abstracts are available for download from the below.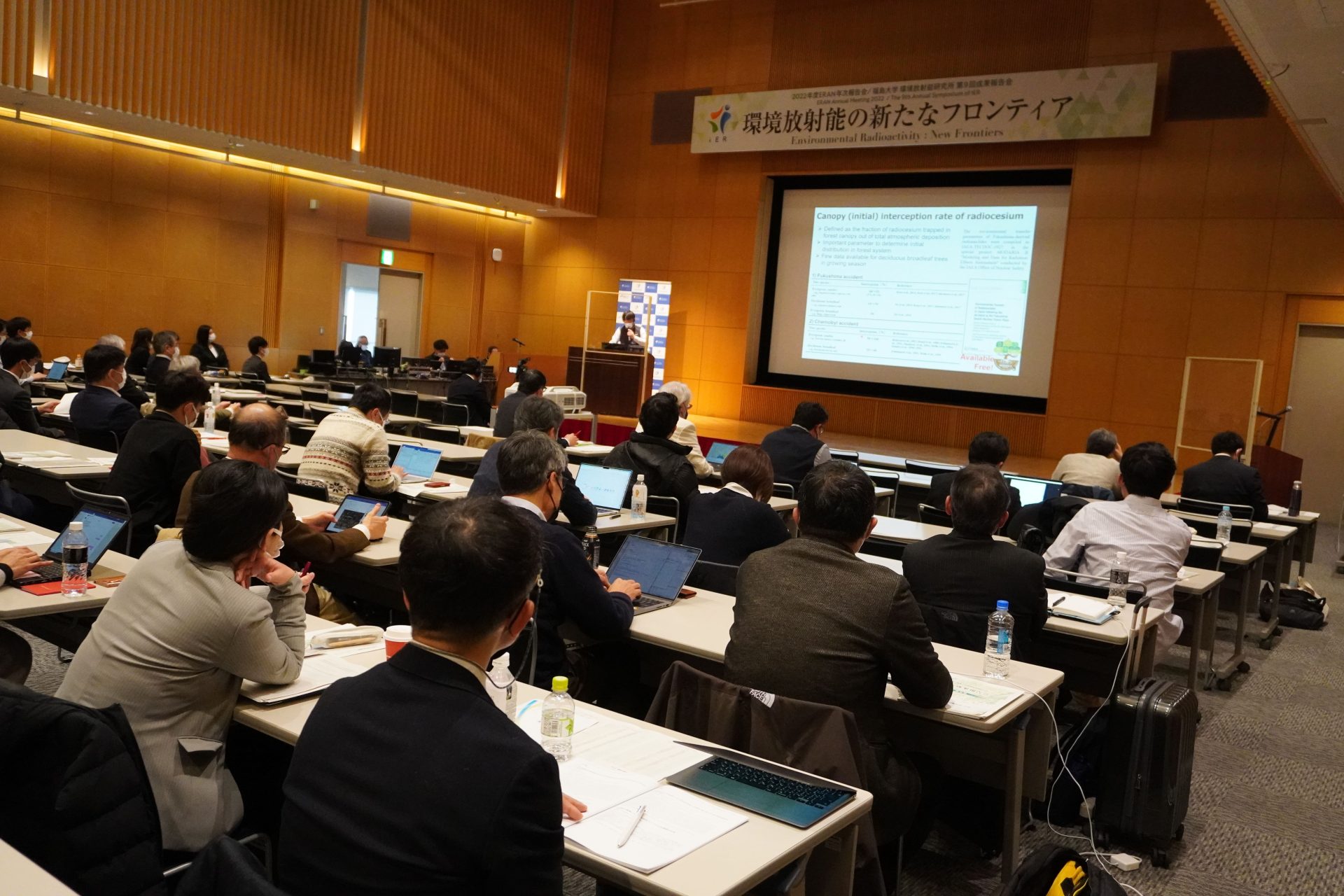 Program of the Oral & Poster Presentation for Experts Feb. 13
Time
Program / Title
Speaker
Affiliation
10:00-10:10
Opening Remarks
ONDA Yuichi
Director ERAN and CRiED, Professor, University of Tsukuba
10:10-10:40
Ecological Resuspension of Radioactive Cs in Contaminated Forest Area
IGARASHI Yasuhito
Professor, Institute for Integrated Radiation and Nuclear Science, Kyoto University
10:40-11:20
Flash Talk 1
60 Projects
11:20-11:30
Break
11:30-12:00
Long-term transfer of radiocesium within the forest in Fukushima Prefecture
KATO Hiroaki
Associate Professor, Center for Research in Isotopes and Environmental Dynamics, University of Tsukuba
12:00-12:40
Flash Talk 2
60 Projects
12:40-13:40
Break
13:40-14:10
Monitoring methodology of tritium in the environment
AKATA Naofumi
Professor, Institute of Radiation Emergency Medicine, Hirosaki University
14:10-14:35
Flash Talk 3
35 Projects
14:35-14:45
Break
14:45-15:15
Long-term variation of 137Cs concentration in river systems with different 137Cs accumulation watershed in Fukushima and Gunma Prefecture, Japan
NAGAO Seiya
Director, Institute of Nature and Environmental Technology, Kanazawa University
15:15-15:45
Discussion
Facilitator: ONDA Yuichi
Director ERAN and CRiED, Professor, University of Tsukuba
15:45-15:55
Closing Remarks
NANBA Kenji
Director, IER / Professor, Fukushima University
16:00-18:00
Poster Presentation
18:00-18:15
Award
Program of the Symposium for the General Public Feb. 14
Time
Program / Title
Speaker
Affiliation
13:00-13:05
Opening Remarks
MIURA Hiroki
President, Fukushima University
13:05-13:15
Overview
NANBA Kenji
Director, IER/ Professor, Faculty of Symbiotic Systems Science
13:15-13:45
Development of a visualization device of radiation distribution based on a new concept
TORII Tatsuo
Project Professor, IER
13:45-14:15
Terrestrial dynamics of radio-cesium – past, present and future –
IGARASHI Yasunori
Project Senior Assistant Professor, IER
14:15-14:45
New frontiers for understanding of dynamics of tritium in the marine environment
TAKATA Hyoe
Associate Professor, IER
14:45-14:55
Break
14:55-15:25
Frontiers and remaining issues in fisheries restoration of Fukushima
WADA Toshihiro
Associate Professor, IER
15:25-15:55
Radiation risk perception and the recovery of Fukushima
TAKAMURA Noboru
Vice Director, IER/ Professor, Nagasaki University
15:55-16:25
Radioecology after Fukushima: Lessons Learned and Challenges for the Future
Alexei KONOPLEV
Vice Director/ Project Professor, IER
16:25-16:55
Discussion
Facilitator: TSUKADA Hirofumi
Professor, IER
16:55-17:00
Closing Remarks
TAKAMURA Noboru
Vice Director, IER/ Professor, Nagasaki University
For day 1, it was held jointly with the 2022 ERAN Annual Meeting, and the Oral and poster presentation were conducted. All the oral presentations for experts were given in English. We received many questions from participants, such as how groundwater is affected by tritium. The "Student Award" was presented to students who gave the outstanding poster presentation at this year's poster session. Three students received the award, including KUROSAWA Honoka, a PhD student in the IER and Polina PAVLENKO, who has been accepted in the SATREPS Chernobyl project.
For day 2, in the symposium for the general public, six IER professors gave presentations on the theme "Environmental Radioactivity: New Frontiers". We received a variety of questions from participants, both from researchers and the general public. Several questions were asked about ALPS treated water, indicating the high interest in the release of ALPS treated water from the Fukushima Dai-ichi Nuclear Power Plant. In the discussion session, all presenters were asked about their thoughts: what kind of thoughts led to their presentation.
Thank you very much for your participation in the annual symposium!