KUROSAWA Honoka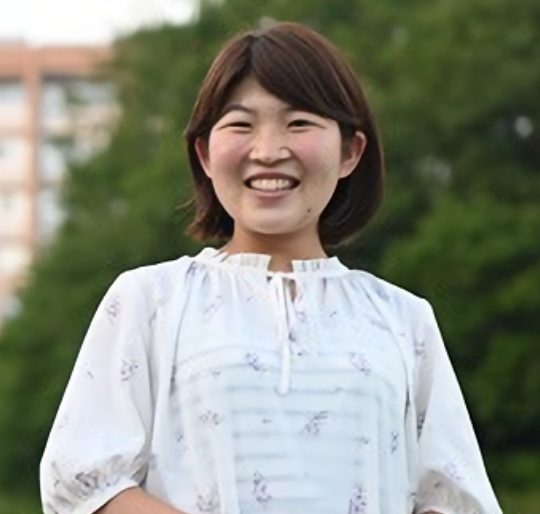 Why did you decide to enter the graduate school of Fukushima University and choose the Major in Environmental Radioactivity?
As an undergraduate student, I would study the dynamics of radiocesium in irrigation ponds under the supervision of Prof. Nanba (IER Director). Every time I obtained the results of my investigations, I could not wait to see what happens next. As I continued my study, my academic inquiry about the results that will come out next got stronger. It made me decide to enroll at the graduate school and learn more about the environmental radioactivity. Looking at my ex-classmates who entered the graduate school earlier gaining their knowledge more and more in the Major of Environmental Radioactivity encouraged me to make the decision, too.
I am originally from Saitama Prefecture and was a junior high school student when the accident occurred at the Fukushima Dai-ichi Nuclear Power Plant. So, I had not had any knowledge in radioactivity or even opportunity to think about it until I entered Fukushima University. I learned that there are still many problems related to the accident such as the remaining difficult-to-return-zone. However, I did not have enough opportunity to scientifically study the radioactivity before I became a junior student in the university. Luckily, as I am living in Fukushima, I thought that I want to acquire the right knowledge concerning the problems unique to Fukushima. That is why I decided to join the research activity of prof. Nanba when I became a junior student. The decision ended up leading me to the graduate school currently I am studying at.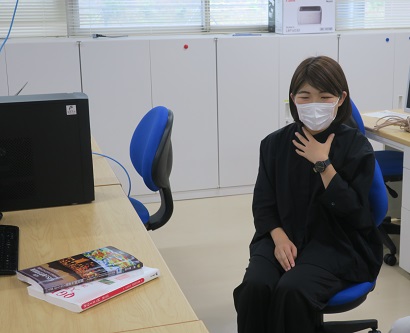 Could you tell us about your research? What do you find interesting about your research?
In some irrigation ponds in Koriyama City, it was found that the radioactivity concentration of the sediments once decreased after the decontamination work is now getting higher again. Moreover, layers of the sediments with high radioactivity concentration are getting thicker. I consider that these phenomena may have been caused by the particle inflows from the surrounding watersheds. I am conducting research and investigations to see if my assumptions are correct.
I find my research interesting especially when I am summarizing the analysis results and considering the reasons behind. Discussions with other students are also enjoyable. On the other hand, what I find difficult is handling of samples. The number of samples is very large and it takes a long time to analyze them all and get the results. For example, to analyze the sediment samples taken from seven different locations, samples are sliced by 1 cm and analyzed by each layer. Sometimes, the total number reaches as many as 200 samples. However, I feel a great sense of accomplishment when I see the results and that is the reason why I continue my research.
I sometimes have opportunities to report my research results to land owners who provide us with their land for our research activities. I feel that it is a great experience for me to talk and interact with local people which enables us to learn about various aspects of things.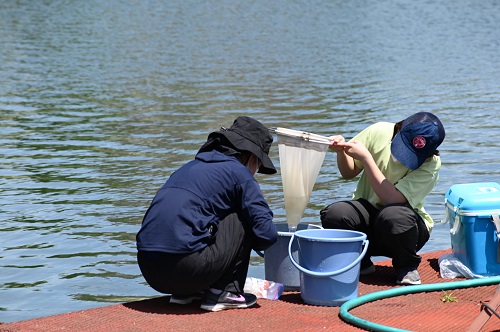 How do you spend your daily life as a graduate student?
On weekdays, I normally spend most of my time in the laboratory working on processing samples, etc. I conduct sampling activities at ponds every two months except for the winter season. When I go on such sampling trips, I go together with my supervisor Dr. Wakiyama, Dr. Nanba, Dr. Wada, and some other undergraduate students, and work on sampling of water and sediment samples.
In addition to my research activities, I am working as a Teaching Assistant (TA) and support the experimental work of undergraduate students. Main roles of the TA are to prepare the experiment procedures and necessary equipment. I sometimes find it difficult since I am expected to perform as a leader of other TA colleagues and undergraduate students as a second-year master's student. Fortunately, they all are positive about the work and always give me confidence. My life as a graduate students is busy but also fun and fulfilling.
I made a presentation at an academic conference this year for the first time, which is one of the requirements to obtain the master's degree. However, since it was held online, it did not feel so real to me. I hope to physically attend conferences and make presentations someday, and interact with students and professors from other universities.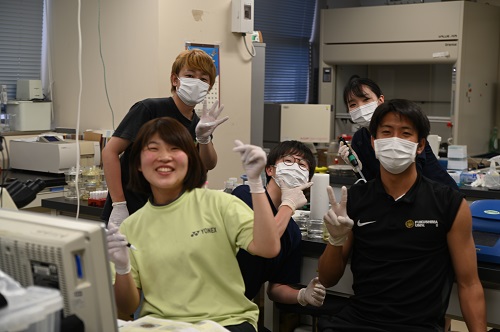 How will you utilize your experience in the graduate school in future?
At the moment, I am thinking about continuing my research after I get the master's degree. Then, I hope to find a job which can give me opportunities to interact with the general public while continuing my research activities.
As a graduate student, I often have to take the initiative in planning fieldwork activities. When I face problems, my classmates are always kind enough to help me with tasks that I would not be able to complete without them. From such experience, I learned a lot about how to improve the teamwork, which will be a great help even in my future career. Also, I realized how difficult it is to explain the research results to other people in a way that is easy to understand. Every time I have such opportunities, I think about how I can improve my presentation so that it becomes easier to understand, which I want to keep trying to challenge. Furthermore, as I mentioned earlier, I was able to learn various different perspectives that people have through the communications with local people. I want to be a person who has a large enough capability to cherish and accept such various senses of values.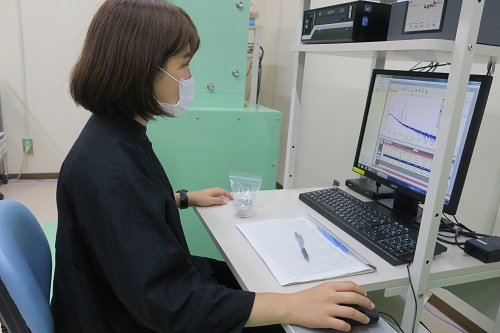 Could you tell us the attractions of the Major in Environmental Radioactivity to whom are thinking about applying for?
There are not so many students in the Major of Environmental Radioactivity, which enables us to build a close relationship with professors. You will be able to acquire specialized knowledge in environmental radioactivity by frankly communicating with professors. That is one of the attractions of our program. Also, there are several international professors, who are giving lectures in English. By attending such lectures, your English skills will definitely improve. This is another attraction that I should mention. In a lecture called the "Practicum in Environmental Radioactivity Science", I was able to work on the experiment and analysis activities under the guidance of professors from various different fields of specialization. I am also enjoying going on research and field trips with my classmates. Through the study of environmental radioactivity, I have been able to learn a variety of knowledge and ways of thinking. I am delighted with my decision that I chose the Major in Environmental Radioactivity.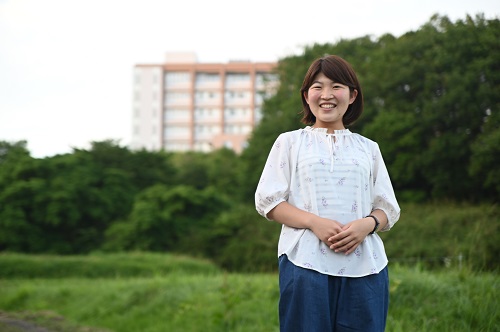 Interviewed June 2021